Why a Topping Out Celebration?
Topping Out celebrations mark the ceremonial placement of the last or highest steel beam and are an important christening tradition in new construction projects, tracing back to ancient customs.
"We do have solid evidence that about 700 A.D., the Scandinavians were the first to be using trees to symbolize the topping-out," said William M. Lawbaugh, editor of Ironworker Magazine, the publication of the ironworkers' union. "There was pantheism, a spirit within the wood. The mythology in Scandinavia suggests that man might have originated from a tree, and the soul of man returns to the tree after death."
Around the world
The Egyptians used a live tree in a topping out ceremony for the country's first stone building around 2700 AD. During the construction of China's Great Wall it has been said that a man was buried in the foundation after builders completed one of the sprawling structure's sections in 200 BC. According to an ancient legend, 10,000 people had to be buried beneath the wall. However this grim requirement was met with the one person named "Workman 10,000" and sacrificed accordingly. In Brazil, branches and leaves are attached to the building and the workforce then eats, drinks, and dances as part of ritual. Germans hang laurels around the chimney and the workers. The Danish decorate the roof of the building with evergreen garlands. In Jordan, builders hold a religious ceremony followed by a feast.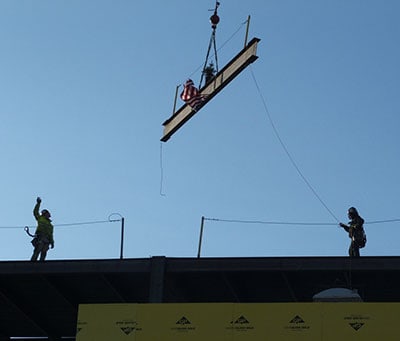 At today's construction site, it is an opportunity to recognize and thank the people who have worked on the building and to mark an important milestone in the life of project, a soon-to-be-completed structure.
The final steel beam is sometimes signed by owners or investors. It is their way of symbolically "signing off" on a job well done. The beam is decorated with an American flag and a small evergreen tree. These customs signify patriotism and a wish for the successful life and growth of the building.