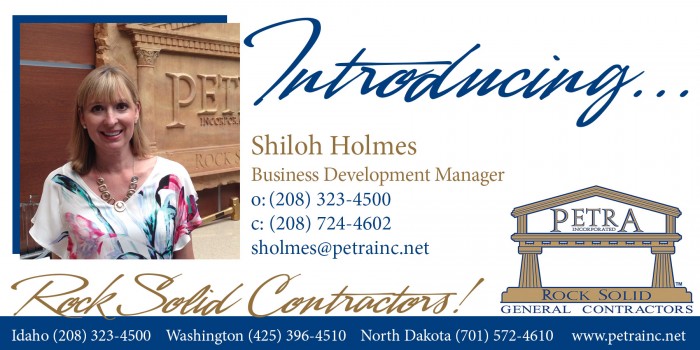 PETRA INC. HIRES BUSINESS DEVELOPMENT MANAGER
July 29, 2015 Boise, ID:  Shiloh Holmes recently joined Petra Inc.'s marketing department as the business development manager. In this role Ms. Holmes will assist in identifying strategic business opportunities, infiltrate new markets, and secure a share of existing markets. Holmes brings over 10 years' experience in sales and business development and nearly 20 years' experience in marketing.  Holmes is also a member of the ICSC (International Council for Shopping Centers). Previously, Ms. Holmes was the Director of Marketing and Business Development for Lochsa Engineering.
Ms. Holmes earned a B.S. in advertising and public relations with a Psychology minor from the University of Idaho. An advocate for community outreach, Holmes is involved in fundraising events for the Boise Philharmonic, Idaho Youth Ranch, and Rake Up Boise.
About the Petra Inc.:
PETRA is a recognized leader in general contracting, construction management, and design/build services. The company encompasses two decades of construction industry experience and market knowledge. PETRA brings excellence to each project through in-house services which include: pre-construction, value-engineering, design review, planning, construction, start-up, cost management, and commissioning. PETRA's rock solid team is dedicated to offering each client superior customer service and construction excellence. PETRA has founded a company philosophy that knowledge and experience build trust; trust builds partnerships; partnerships build buildings; and buildings create communities.
###