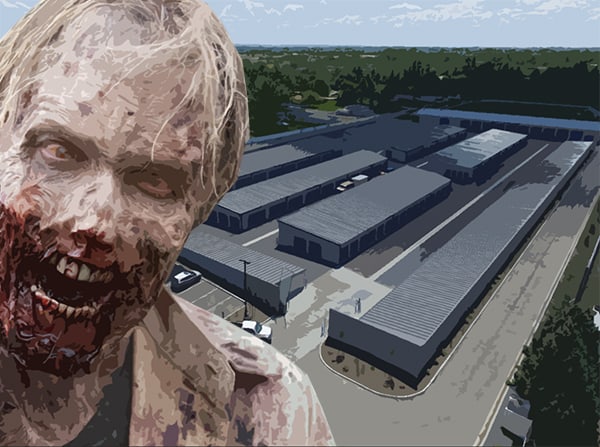 Self-Storage Construction: Where it started, interesting stats, and a horror novel by the author of "Walking Dead"
PETRA is in the middle of building its third self-storage project and will be breaking ground shortly on its fourth with a fifth project for the year currently bidding. With self-storage being all the rage, I wanted to know more about this seemingly recession proof business. Here is a quick look at an industry that answers the question "What do I do with all my stuff?"
Self-Storage History
According to SBOA, self-storage development began in the United States after World War II as a means of land banking or short-term feasible alternative development. The first modern facility credited for public storage dates back to 1960, in Corpus Christi, Texas. Over the last 60 years, the industry has matured into a sophisticated asset class with appeal to individual investors, regional and national operators.
Many self-storage facilities have come to be built due to oddly shaped parcels of land, parcels with poor street frontage (but easy access), parcels under overhead power lines, in utility corridors, or old railroad rights of way.
Today, Texas, California and Florida lead the nation in total square footage of self-storage space. The Sunbelt areas that flourished with ranches and bungalows after World War II usually did not come with a basement, presenting a need for storage (SBOA).
Current Stats
According to IBISWorld the self-storage is a $33 billion dollar industry with an annual growth of 6.5% (June 2016). It benefits from an economic down turn due to people needing to downsize businesses and houses. Having to move into a smaller office or house to save rent, provides an option to store their stuff.
Self-Storage benefits in the improving economy too. People will buy more stuff as the economy improves, propelling the need to rent a storage space while they find their bigger house or bigger office. This happens more frequently in the summer months when school is out and students and families transition around the country more frequently.
There are six public corporations operating in the industry: Public Storage, Extra Space Storage, CubeSmart, National Storage Affiliates Trust, Sovran Self Storage (Uncle Bob's) and U-Haul International. In addition, the industry has 4,500 large and mid-sized firms that own and operate more than one facility; yet there are still more than 26,000 one facility owner-operators (SSA).
If IBISWorld's prediction is correct, the self-storage industry will continue to benefit from an improving economy alongside consumer confidence and consumer spending for the next five years.
A Few Interesting Facts
Now, who has a piece of land that needs a general contractor with self-storage building experience? At PETRA – We are here for you!
Corey King
PETRA Marketing