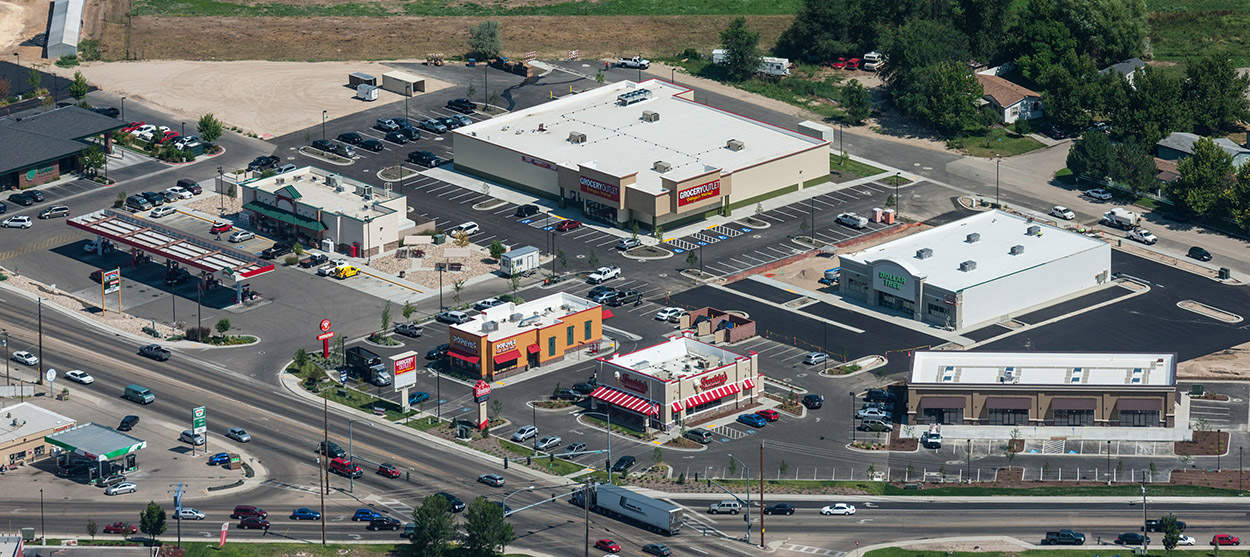 If You Build it They Will Come to Idaho
National Credit Tenants Find a Winning Location at Caldwell Commons
A year ago vacancy rates for retail in Caldwell were at 3%. Today second generation space is hard to find without paying higher rent. At the corner of Cleveland Boulevard and Ustick, where the old Blackers Home Furnishings once stood, is a home-run first generation development called Caldwell Commons, set with a deep bench of national credit tenants: Grocery Outlet, Dollar Tree, Freddy's Frozen Custard and Steakburgers, Popeyes® Louisiana Kitchen, and Subway.
Ron Sali and Travis Stroud of Northwest Development Group are responsible for getting this team together.  They saw the potential of the location and stepped up to the plate by capturing key national tenants on a major expansion. "It really was a unique dynamic for us," Stroud said. "I don't think there was a better corner available in Caldwell." Northwest Development Group was put in touch with the property's owner, a busy California developer thriving in the Golden State, through commercial real estate broker Andrea Nilson of Cushman Wakefield.
Site work on the six acre development got underway in December 2014 by local general contractor PETRA and building pads poured shortly after.  PETRA completed Grocery Outlet's retail building shell in May and the grocery retailer had a record setting grand opening in August. Neighboring tenant Dollar Tree's building shell completed in July and a grand opening will be held in a few short weeks. "We are delighted in having opened in Caldwell and to be a part of such a vibrant and welcoming community," said Bill Coyle, Vice President of Real Estate for Grocery Outlet. "It was a joy working with these property owners, who delivered on everything they promised and making it a development that will stand the test of time and that enjoys such an impressive lineup of retailers that all complement one another," Coyle said.
Grocery Outlet has capitalized in the Treasure Valley by investing in new equipment and tenant improvements to their Overland location with Fairview's store in the pipeline for upgrades early 2016.  Freddy's and Popeyes aren't far behind opening multiple locations in Idaho. "National chains are attracted to the Treasure Valley due to the increase in households from here to Mountain Home and due to the construction upswing," Sali said.  "Hopefully we are setting the trend to be the recession proof value retailer for Treasure Valley."
###
Corey King
PETRA, Inc.
(208) 323-4500