Holiday Inn to Break Ground on New Hotel in Nampa on Monday 

NAMPA—Mayor Bob Henry and Nampa Chamber President Debbie Kling join PETRA General Contractors, Owners Kirk Smith, Jerame and Katie Petry to break ground on a new $9.4 million Holiday Inn on Monday, 3:00 pm May 9th. The new hotel located at 16173 Midland Boulevard is right off I-84 at the Midland Boulevard exit.
Mayor Bob Henry stated, "The addition of this new hotel to Nampa is a result of significant growth in Nampa.  With new industries in and around Nampa, thanks to Boise Valley Economic Partnership and our Economic Development Office, the new Holiday Inn will help meet the growing need for more hotel accommodations in Nampa."
PETRA has teamed with WorthGroup Architects out of Colorado for the 59,000 square foot Design-Build project. The hotel will be four stories with 85 rooms, a full service restaurant, conference center, media lounge, and state of the art fitness center and pool.
"We are excited to be part of Nampa's extensive growth. Partnering with Holiday Inn will allow us to bring a unique hotel to the area," said Jerame Petry. "The new hotel will incorporate Nampa's history and culture. We believe our location will cater to Nampa's travel market due to our close proximity to the Idaho Ford Center, St. Luke's, and Northwest Nazarene University. We are excited to serve Nampa and the surrounding area for years to come."
According to InterContinental Hotels Group, Holiday Inn opened their first hotel in 1952. At the end of December 2015 they had 1,226 hotels, 228,100 rooms, and 255 hotels in the pipeline. The Holiday Inn in Nampa is scheduled to be completed by spring of 2017.
Contact: Corey King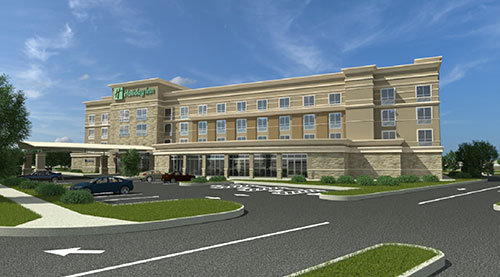 Photo rendering courtesy of WorthGroup Architects